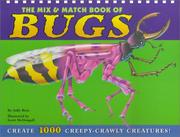 595.7
The mix & match book of bugs : create 1000 creepy-crawly creatures!
New York : Little Simon, c2000.
1 v. (unpaged) : col. ill. ; 23 x 29 cm.
Flip the pages to create new bugs from 10 real ones: common scorpionfly, jagged ambush bug, bombadier beetle, soldier fly, flower mantis, green tiger beetle, elephant stag beetle, green valley grasshopper, red ant worker, and flyhunting wasp.
Available
Regular
1 copy available at Shiloh Hills Christian School
| | |
| --- | --- |
| ISBN: | |
| LC Call No: | QL467.2 .R664 2000 |
| Dewey Class No: | 595.7 21 |
| Author: | |
| Title: | The mix & match book of bugs : create 1000 creepy-crawly creatures! / by Sally Rose ; illustrated by Scott McDougall. |
| VaryingTitle: | |
| VaryingTitle: | |
| Edition: | 1st ed. |
| Publisher: | New York : Little Simon, c2000. |
| Physical: | 1 v. (unpaged) : col. ill. ; 23 x 29 cm. |
| Notes: | Cover title. |
| Notes: | Each leaf is separated into three horizontal segments. On board pages. |
| Summary: | Flip the pages to create new bugs from 10 real ones: common scorpionfly, jagged ambush bug, bombadier beetle, soldier fly, flower mantis, green tiger beetle, elephant stag beetle, green valley grasshopper, red ant worker, and flyhunting wasp. |
| Subject: | |
| Subject: | |
| Subject: | |
| Subject: | |
| AE:PersName: | |
| Link: | |
| Field | Ind | Subfield | Data |
| --- | --- | --- | --- |
| 001 Control No | | | 18568 |
| 005 LastTransaction | | | 20180703145401.0 |
| 008 Data Elements | | | 010329s2000 nyua j 001 0 eng d |
| 010 LCCN | | $a Record content licensor | 2001267701 |
| 020 ISBN | | $a ISBN | 978-0-689-83885-9 |
| 035 System Ctrl No | | $a System control number | (OCoLC)ocm45839290 |
| 035 System Ctrl No | | $a System control number | 12362943 |
| 040 Cataloging Src | | $a Original cataloging agency | UUC |
| | | $c Transcribing agency | UUC |
| | | $d Modifying agency | DLC |
| 042 Authentication | | $a Authentication code | lccopycat |
| | | $a Authentication code | lcac |
| 050 LC Call No | 00 | $a Classification number | QL467.2 |
| | | $b Item number | .R664 2000 |
| 082 Dewey Class No | 00 | $a Classification number | 595.7 |
| | | $2 Edition number | 21 |
| 100 ME:PersonalName | 1 | $a Personal name | Rose, Sally. |
| 245 Title | 14 | $a Title | The mix & match book of bugs : |
| | | $b Remainder of title | create 1000 creepy-crawly creatures! / |
| | | $c Statement of responsibility | by Sally Rose ; illustrated by Scott McDougall. |
| 246 VaryingTitle | 3 | $a Title proper/short title | Mix and match book of bugs |
| 246 VaryingTitle | 3 | $a Title proper/short title | Bugs |
| 250 Edition | | $a Edition statement | 1st ed. |
| 260 PublicationInfo | | $a Place of publication, dist. | New York : |
| | | $b Name of publisher, dist, etc | Little Simon, |
| | | $c Date of publication, dist, etc | c2000. |
| 300 Physical Desc | | $a Extent | 1 v. (unpaged) : |
| | | $b Other physical details | col. ill. ; |
| | | $c Dimensions | 23 x 29 cm. |
| 500 General Note | | $a General note | Cover title. |
| 500 General Note | | $a General note | Each leaf is separated into three horizontal segments. On board pages. |
| 520 Summary | | $a Summary, etc. note | Flip the pages to create new bugs from 10 real ones: common scorpionfly, jagged ambush bug, bombadier beetle, soldier fly, flower mantis, green tiger beetle, elephant stag beetle, green valley grasshopper, red ant worker, and flyhunting wasp. |
| 650 Subj:Topic | 0 | $a Topical term | Insects |
| | | $v Form subdivision | Juvenile literature. |
| 650 Subj:Topic | 0 | $a Topical term | Toy and movable books |
| | | $v Form subdivision | Specimens. |
| 650 Subj:Topic | 1 | $a Topical term | Insects. |
| 650 Subj:Topic | 1 | $a Topical term | Toy and movable books. |
| 700 AE:PersName | 1 | $a Personal name | McDougall, Scott, |
| | | $e Relator | ill. |
| 852 Holdings | | $a Location | SHCS |
| | | $h Classification part | 595.7 |
| | | $p Barcode | 19977 |
| | | $9 Cost | $0.00 |
| 856 ElectronicLocat | 4 | $3 Materials specified | Cover image |
| | | $u Uniform Resource Identifier | https://covers.openlibrary.org/b/id/1340791-M.jpg |