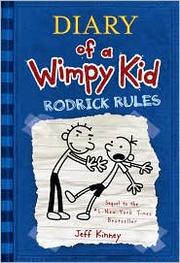 JF Kin
Diary of a wimpy kid : Rodrick rules
New York : Amulet Books, 2008.
216 p. : ill. ; 21 cm.
Greg Heffley tells about his summer vacation and his attempts to steer clear of trouble when he returns to middle school and tries to keep his older brother Rodrick from telling everyone about Greg's most humiliating experience of the summer.
Accelerated Reader: Level 5.2 MG / 3.0 Points / 119441.
Lexile: 910L
Due 10/30/18
Regular
All copies at Shiloh Hills Christian School are out and the next copy is due back 10/30/18
| | |
| --- | --- |
| ISBN: | |
| ISBN: | |
| ISBN: | |
| ISBN: | |
| ISBN: | |
| ISBN: | |
| LC Call No: | PZ7.K6232 Dr 2008 |
| Dewey Class No: | [Fic] 22 |
| Author: | |
| Title: | |
| VaryingTitle: | |
| Publisher: | New York : Amulet Books, 2008. |
| Physical: | 216 p. : ill. ; 21 cm. |
| Summary: | Greg Heffley tells about his summer vacation and his attempts to steer clear of trouble when he returns to middle school and tries to keep his older brother Rodrick from telling everyone about Greg's most humiliating experience of the summer. |
| Target Audience: | |
| Study Program: | |
| Awards Note: | A Junior Library Guild selection. |
| Subject: | |
| Subject: | |
| Subject: | |
| Subject: | |
| Subject: | |
| SAE:UnifrmTitle: | |
| Link: | |
| Link: | |
| Field | Ind | Subfield | Data |
| --- | --- | --- | --- |
| 001 Control No | | | 18915 |
| 005 LastTransaction | | | 20170209083004.0 |
| 008 Data Elements | | | 070907s2008 nyua c 000 f eng |
| 010 LCCN | | $a Record content licensor | 2007032296 |
| 020 ISBN | | $a ISBN | 978-0-8109-8894-1 |
| 020 ISBN | | $a ISBN | 978-0-8109-9552-9 |
| 020 ISBN | | $a ISBN | 978-0-8109-9473-7 |
| 020 ISBN | | $a ISBN | 978-0-8109-9473-7 |
| 020 ISBN | | $a ISBN | 978-0-606-23663-8 |
| 020 ISBN | | $a ISBN | 978-0-606-23663-8 |
| 035 System Ctrl No | | $a System control number | (OCoLC)ocn166872907 |
| 040 Cataloging Src | | $a Original cataloging agency | DLC |
| | | $b Language of cataloging | eng |
| | | $c Transcribing agency | DLC |
| | | $d Modifying agency | BTCTA |
| | | $d Modifying agency | BAKER |
| | | $d Modifying agency | UPZ |
| | | $d Modifying agency | YDXCP |
| | | $d Modifying agency | DAJ |
| | | $d Modifying agency | TEF |
| | | $d Modifying agency | JRS |
| 042 Authentication | | $a Authentication code | lcac |
| 049 | | $a | JRSA |
| 050 LC Call No | 00 | $a Classification number | PZ7.K6232 |
| | | $b Item number | Dr 2008 |
| 082 Dewey Class No | 00 | $a Classification number | [Fic] |
| | | $2 Edition number | 22 |
| 100 ME:PersonalName | 1 | $a Personal name | Kinney, Jeff. |
| 245 Title | 10 | $a Title | Diary of a wimpy kid : |
| | | $b Remainder of title | Rodrick rules / |
| | | $c Statement of responsibility | by Jeff Kinney. |
| 246 VaryingTitle | 3 | $a Title proper/short title | Rodrick rules. |
| 260 PublicationInfo | | $a Place of publication, dist. | New York : |
| | | $b Name of publisher, dist, etc | Amulet Books, |
| | | $c Date of publication, dist, etc | 2008. |
| 300 Physical Desc | | $a Extent | 216 p. : |
| | | $b Other physical details | ill. ; |
| | | $c Dimensions | 21 cm. |
| 520 Summary | | $a Summary, etc. note | Greg Heffley tells about his summer vacation and his attempts to steer clear of trouble when he returns to middle school and tries to keep his older brother Rodrick from telling everyone about Greg's most humiliating experience of the summer. |
| 521 Target Audience | 8 | $a Target audience note | 910 |
| | | $b Source | Lexile. |
| 526 Study Program | 0 | $a Program name | Accelerated Reader AR |
| | | $b Interest level | MG |
| | | $c Reading level | 5.2 |
| | | $d Title point value | 3.0 |
| | | $z Public note | 119441. |
| 586 Awards Note | 8 | $a Awards note | A Junior Library Guild selection. |
| 650 Subj:Topic | 0 | $a Topical term | Middle schools |
| | | $v Form subdivision | Juvenile fiction. |
| 650 Subj:Topic | 0 | $a Topical term | Schools |
| | | $v Form subdivision | Juvenile fiction. |
| 650 Subj:Topic | 0 | $a Topical term | Families |
| | | $v Form subdivision | Juvenile fiction. |
| 650 Subj:Topic | 0 | $a Topical term | Diaries |
| | | $v Form subdivision | Juvenile fiction. |
| 650 Subj:Topic | 0 | $a Topical term | Humorous stories. |
| 830 SAE:UnifrmTitle | 0 | $a Uniform title | Diary of a wimpy kid ; |
| | | $v Volume/sequential designation | 2. |
| 852 Holdings | | $a Location | SHCS |
| | | $h Classification part | JF Kin |
| | | $p Barcode | 20685 |
| | | $9 Cost | $0.00 |
| 856 ElectronicLocat | 4 | $3 Materials specified | Cover image |
| | | $u Uniform Resource Identifier | https://covers.openlibrary.org/b/id/6309486-M.jpg |
| 856 ElectronicLocat | 4 | $3 Materials specified | Author photo |
| | | $u Uniform Resource Identifier | https://covers.openlibrary.org/a/olid/OL2832500A-M.jpg |