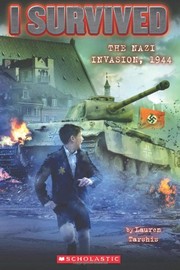 JF Tar
I survived the Nazi invasion, 1944
New York : Scholastic Inc., [2014]
89 pages : illustrations ; 20 cm.
A young Jewish boy escapes the ghetto and finds a group of resistance fighters in the forests of Poland, and he must determine if he has what it takes to survive the Nazis and fight back.
Accelerated Reader: Level 5.1 MG / 2.0 Points / 164822.
Lexile: 740L
Available
Regular
2 copies available at Shiloh Hills Christian School
| Field | Ind | Subfield | Data |
| --- | --- | --- | --- |
| 001 Control No | | | 18504 |
| 005 LastTransaction | | | 20190111025112.0 |
| 008 Data Elements | | | 140127s2014 nyua j b 000 1 eng d |
| 010 LCCN | | $a Record content licensor | bl2014004012 |
| 020 ISBN | | $a ISBN | 978-0-545-45938-9 |
| 020 ISBN | | $a ISBN | 978-0-545-45938-9 |
| 035 System Ctrl No | | $a System control number | bl2014004012 |
| 035 System Ctrl No | | $a System control number | 8 |
| 040 Cataloging Src | | $a Original cataloging agency | NjBwBT |
| | | $b Language of cataloging | eng |
| | | $c Transcribing agency | NjBwBT |
| | | $e Description conventions | rda |
| | | $d Modifying agency | NjBwBT |
| 049 | | $a | JRSA |
| 049 | | $a | JRSA |
| 050 LC Call No | 14 | $a Classification number | PZ7.T211115 |
| | | $b Item number | Iarr 2014 |
| 082 Dewey Class No | 04 | $a Classification number | [E] |
| | | $2 Edition number | 23 |
| 100 ME:PersonalName | 1 | $a Personal name | Tarshis, Lauren, |
| | | $e Relator term | author. |
| 245 Title | 10 | $a Title | I survived the Nazi invasion, 1944 / |
| | | $c Statement of responsibility | by Lauren Tarshis ; illustrated by Scott Dawson. |
| 246 VaryingTitle | 30 | $a Title proper/short title | Nazi invasion, 1944. |
| 264 ProductnNotice | 1 | $a Place of prod/dist/manuf. | New York : |
| | | $b Name of prod./pub./dist./man. | Scholastic Inc., |
| | | $c Date of prod/dist/manuf/copyrt | [2014] |
| 300 Physical Desc | | $a Extent | 89 pages : |
| | | $b Other physical details | illustrations ; |
| | | $c Dimensions | 20 cm. |
| 336 ContentType | | $a Content type term | text |
| | | $2 Source | rdacontent. |
| 337 MediaType | | $a Media type term | unmediated |
| | | $2 Source | rdamedia. |
| 338 CarrierType | | $a Carrier type term | volume |
| | | $2 Source | rdacarrier. |
| 504 BibliogrphyNote | | $a Bibliography, etc. note | Includes bibliographical references. |
| 520 Summary | | $a Summary, etc. note | A young Jewish boy escapes the ghetto and finds a group of resistance fighters in the forests of Poland, and he must determine if he has what it takes to survive the Nazis and fight back. |
| 521 Target Audience | 8 | $a Target audience note | 740 |
| | | $b Source | Lexile. |
| 526 Study Program | 0 | $a Program name | Accelerated Reader AR |
| | | $b Interest level | MG |
| | | $c Reading level | 5.1 |
| | | $d Title point value | 2.0 |
| | | $z Public note | 164822. |
| 650 Subj:Topic | 0 | $a Topical term | World War, 1939-1945 |
| | | $x General subdivision | Jewish resistance |
| | | $z Geographic subdivision | Poland |
| | | $v Form subdivision | Juvenile fiction. |
| 650 Subj:Topic | 0 | $a Topical term | Holocaust, Jewish (1939-1945) |
| | | $z Geographic subdivision | Poland |
| | | $v Form subdivision | Juvenile fiction. |
| 650 Subj:Topic | 0 | $a Topical term | Jews |
| | | $z Geographic subdivision | Poland |
| | | $x General subdivision | History |
| | | $y Chronological subdivision | 20th century |
| | | $v Form subdivision | Juvenile fiction. |
| 650 Subj:Topic | 0 | $a Topical term | Nazis |
| | | $z Geographic subdivision | Poland |
| | | $x General subdivision | History |
| | | $y Chronological subdivision | 20th century |
| | | $v Form subdivision | Juvenile fiction. |
| 651 Subj:Geog | 0 | $a Geographic name | Poland |
| | | $x General subdivision | History |
| | | $y Chronological subdivision | 20th century |
| | | $v Form subdivision | Juvenile fiction. |
| 700 AE:PersName | 1 | $a Personal name | Dawson, Scott, |
| | | $e Relator | illustrator. |
| 800 SAE:PersonlName | 1 | $t Title of a work | I survived. |
| 852 Holdings | | $a Location | SHCS |
| | | $h Classification part | JF Tar |
| | | $p Barcode | 19908 |
| | | $9 Cost | 7 |
| 852 Holdings | | $a Location | SHCS |
| | | $h Classification part | JF Tar |
| | | $p Barcode | 20432 |
| | | $9 Cost | $0.00 |
| 852 Holdings | | $a Location | SHCS |
| | | $h Classification part | JF Tar |
| | | $p Barcode | 20726 |
| | | $9 Cost | $0.00 |
| 856 ElectronicLocat | 4 | $3 Materials specified | Cover image |
| | | $u Uniform Resource Identifier | https://covers.openlibrary.org/b/id/7393358-M.jpg |