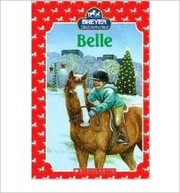 JF Mil
Belle
New York, NY : Scholastic, c2007.
28p. : col. illus. ; 23 cm.
Emmy has just moved from the country and had to leave her beloved horse behind, but Belle, an American quarter horse on which she takes riding lessons, helps her to get used to the noise and bustle of big city life.
Available
Junior Fiction Hardback
1 copy available at Shiloh Hills Christian School
| | |
| --- | --- |
| ISBN: | |
| ISBN: | |
| Author: | |
| Title: | Belle / written by Elizabeth Mills ; illustrated by Jacqueline Rogers. |
| Publisher: | New York, NY : Scholastic, c2007. |
| Physical: | 28p. : col. illus. ; 23 cm. |
| Series: | |
| Notes: | "Cardwheel Books". |
| Summary: | Emmy has just moved from the country and had to leave her beloved horse behind, but Belle, an American quarter horse on which she takes riding lessons, helps her to get used to the noise and bustle of big city life. |
| Subject: | |
| Subject: | |
| Subject: | |
| Subject: | |
| AE:PersName: | |
| Link: | |
| Link: | |
| Field | Ind | Subfield | Data |
| --- | --- | --- | --- |
| 001 Control No | | | 14928 |
| 005 LastTransaction | | | 20190111025112.0 |
| 008 Data Elements | | | 070511s2007 nyu b 000 1 eng |
| 010 LCCN | | $a Record content licensor | 2007015594 |
| 020 ISBN | | $a ISBN | 978-0-439-88336-8 (early chapterbook) |
| 020 ISBN | | $a ISBN | 978-0-439-88336-8 (early chapterbook) |
| 035 System Ctrl No | | $a System control number | (DLC)z1einp b2769678 |
| 040 Cataloging Src | | $a Original cataloging agency | DLC |
| | | $c Transcribing agency | DLC |
| | | $d Modifying agency | DLC |
| 042 Authentication | | $a Authentication code | lcac |
| 100 ME:PersonalName | 1 | $a Personal name | Mills, J. Elizabeth. |
| 245 Title | 10 | $a Title | Belle / |
| | | $c Statement of responsibility | written by Elizabeth Mills ; illustrated by Jacqueline Rogers. |
| 260 PublicationInfo | | $a Place of publication, dist. | New York, NY : |
| | | $b Name of publisher, dist, etc | Scholastic, |
| | | $c Date of publication, dist, etc | c2007. |
| 263 ProjectdPublish | | $a Projected publication date | 0709. |
| 300 Physical Desc | | $a Extent | 28p. : |
| | | $b Other physical details | col. illus. ; |
| | | $c Dimensions | 23 cm. |
| 490 SeriesStatement | 0 | $a Series statement | Breyer stablemates. |
| 500 General Note | | $a General note | "Cardwheel Books". |
| 520 Summary | | $a Summary, etc. note | Emmy has just moved from the country and had to leave her beloved horse behind, but Belle, an American quarter horse on which she takes riding lessons, helps her to get used to the noise and bustle of big city life. |
| 650 Subj:Topic | 1 | $a Topical term | City and town life |
| | | $v Form subdivision | Fiction. |
| 650 Subj:Topic | 1 | $a Topical term | Moving, Household |
| | | $v Form subdivision | Fiction. |
| 650 Subj:Topic | 1 | $a Topical term | Quarter horse |
| | | $v Form subdivision | Fiction. |
| 650 Subj:Topic | 1 | $a Topical term | Horses |
| | | $v Form subdivision | Fiction. |
| 700 AE:PersName | 1 | $a Personal name | Rogers, Jacqueline, |
| | | $d Dates of flourishing | 1958-, |
| | | $e Relator | ill. |
| 852 Holdings | | $a Location | SHCS |
| | | $p Barcode | 16234 |
| | | $9 Cost | $7.00 |
| | | $h Classification part | JF Mil |
| 856 ElectronicLocat | 41 | $3 Materials specified | Table of contents only |
| | | $u Uniform Resource Identifier | http://www.loc.gov/catdir/toc/ecip0718/2007015594.html |
| 856 ElectronicLocat | 4 | $3 Materials specified | Cover image |
| | | $u Uniform Resource Identifier | https://covers.openlibrary.org/b/id/7263236-M.jpg |