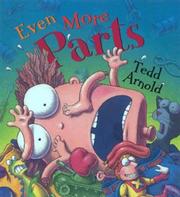 E Arn
Even more parts : idioms from head to toe
New York : Dial Books for Young Readers, c2004.
1 v. (unpaged) : col. ill. ; 25 cm.
A young boy is worried about what will happen to his body when he hears such expressions as "I'm tongue-tied," "don't give me any of your lip," and "I put my foot in my mouth.".
Available
Hardback Book
1 copy available at Shiloh Hills Christian School
| | |
| --- | --- |
| ISBN: | |
| LC Call No: | PZ8.3.A647 Ev 2004 |
| Dewey Class No: | [E] 22 |
| Author: | |
| Title: | |
| Publisher: | New York : Dial Books for Young Readers, c2004. |
| Physical: | 1 v. (unpaged) : col. ill. ; 25 cm. |
| Summary: | A young boy is worried about what will happen to his body when he hears such expressions as "I'm tongue-tied," "don't give me any of your lip," and "I put my foot in my mouth.". |
| Subject: | |
| Subject: | |
| Subject: | |
| Link: | |
| Field | Ind | Subfield | Data |
| --- | --- | --- | --- |
| 001 Control No | | | 13456 |
| 005 LastTransaction | | | 20180919032242.0 |
| 008 Data Elements | | | 030612s2004 nyua b 000 1 eng |
| 010 LCCN | | $a Record content licensor | 2003056170 |
| 020 ISBN | | $a ISBN | 0-8037-2938-3 |
| 035 System Ctrl No | | $a System control number | 13235378 |
| 040 Cataloging Src | | $a Original cataloging agency | DLC |
| | | $c Transcribing agency | DLC |
| | | $d Modifying agency | DLC |
| 042 Authentication | | $a Authentication code | lcac |
| 050 LC Call No | 00 | $a Classification number | PZ8.3.A647 |
| | | $b Item number | Ev 2004 |
| 082 Dewey Class No | 00 | $a Classification number | [E] |
| | | $2 Edition number | 22 |
| 100 ME:PersonalName | 1 | $a Personal name | Arnold, Tedd. |
| 245 Title | 10 | $a Title | Even more parts : |
| | | $b Remainder of title | idioms from head to toe / |
| | | $c Statement of responsibility | Tedd Arnold. |
| 260 PublicationInfo | | $a Place of publication, dist. | New York : |
| | | $b Name of publisher, dist, etc | Dial Books for Young Readers, |
| | | $c Date of publication, dist, etc | c2004. |
| 300 Physical Desc | | $a Extent | 1 v. (unpaged) : |
| | | $b Other physical details | col. ill. ; |
| | | $c Dimensions | 25 cm. |
| 520 Summary | | $a Summary, etc. note | A young boy is worried about what will happen to his body when he hears such expressions as "I'm tongue-tied," "don't give me any of your lip," and "I put my foot in my mouth.". |
| 650 Subj:Topic | 1 | $a Topical term | Body, Human |
| | | $v Form subdivision | Fiction. |
| 650 Subj:Topic | 1 | $a Topical term | Figures of speech |
| | | $v Form subdivision | Fiction. |
| 650 Subj:Topic | 1 | $a Topical term | Stories in rhyme. |
| 852 Holdings | | $a Location | SHCS |
| | | $h Classification part | E Arn |
| | | $p Barcode | 14762 |
| | | $9 Cost | $18.00 |
| 856 ElectronicLocat | 4 | $3 Materials specified | Cover image |
| | | $u Uniform Resource Identifier | https://covers.openlibrary.org/b/id/575545-M.jpg |